Healthy Hair Habits You Should Adopt!
It is officially winter here in Johannesburg and man our winters really are cold! The chill feels like it get's into your bones!  It also means that the beanies and scarfs come out! Now if you are a long hair gal like me, this just means that knotyted hair days are ahead of us!
As we all know, John Frieda is my go-to haircare brand and they have offered some amazing healthy hair habits to adopt keep your beautiful locks, well beautiful. 
Healthy Habits to Adopt ASAP!
1. Brush your hair before you step into the shower
Wet hair is more vulnerable to breakage, so take the time to detangle your strands before jumping into the shower. Not only does it allow you to brush the knots out of your hair when it is dry but also it distributes the natural oils from your scalp to the ends of your hair. A paddle brush is the ideal tool to use or a soft bristle brush.
-I use my tangle teaser for this step!
2. Turn down the temperature of your shower
As appealing as a steamy hot shower may sound, taking a 'super-hot' shower can damage your skin and hair. The desired temperature should be enough to deep clean dirt and grime in your hair but be careful that it's not too hot that it causes irritation.
-I really love hot showers though…
3. Use conditioner with care
Conditioner is like moisturiser, but for your hair. Using it helps to keep your hair hydrated and protected against potential damage. A R5 coin-size drop of conditioner is plenty for most textures and lengths. Using too much conditioner can weigh down your hair, especially if your strands are ultrafine. 
-Definately guilty of useing more than I should and only apply it to the ends of my hair as I have oily roots.
4. Consider hair masks or Deep Conditioners
Hair masks are a deep conditioning treatment that help to heal, moisture and nourish damaged hair. Some hair masks or deep conditioners may even improve the health of your scalp and boost the strength of your hair. It is recommended to use hair masks or deep conditioners once a week or as desired/required by your hair type and lifestyle.
-John Frieda has brought out two new hair masks which are just incredible! You can read more about the launch here.
5. Eat a balanced diet
As tempting as it is to keep opening the fridge and indulge in your lockdown snacks, an unhealthy diet can result in sudden hair loss. When you don't get the correct vitamins, minerals and wholesome nutrients, it can lead to a loss of hair. Good sources of hair food: berries, spinach, and avocados, along with anything else rich in vitamins C and E which will help boost collagen production, resulting in stronger strands.
-My staple has been smashed avo and toast, so Im doing good so far! 
6. Healthy scalp leads to healthy locks
 Make a smart shampoo and conditioner choice: A healthy scalp is perhaps the most important component of a healthy head of hair. Therefore, it is vital to choose the correct shampoo & conditioner best suited to your hair needs.
Shampoo and conditioner for Fine hair – Fine hair generally lacks volume, has little bounce, and appears soft and limp. A suitable hair care product for fine hair is a volumising shampoo and conditioner that contains structure-enhancing additives such as proteins and polymers. These ingredients build up the hair and make it appear stronger.
Shampoo and conditioner for Dry Hair – Dry hair has a brittle texture to touch, and split ends may be visible when you look in the mirror. A suitable shampoo and conditioner for dry hair is one that has moisture additives, as dry hair requires more moisture than protein, as too much protein can make the hair become hard and brittle.
Shampoo and conditioner for Damaged Hair – Damaged hair has a rough texture, dull shine, split ends and lacks moisture. A suitable shampoo and conditioner is one that has a good balance of moisture and protein, with protein being the key ingredient as this strengthens the bonds and helps prevent further damage.
Preserve moisture. Many common scalp problems arise from dry skin or are exacerbated by dehydrated tissue. When you shower or bath, avoid exposing your scalp to hot water whenever possible. Instead, use lukewarm water for rinsing. A useful tip: It is recommended to not wash your hair everyday but rather every second or third day. Also, invest in a good shampoo and conditioner. Purchasing talcum powder which absorbs any excess moisture from the root area will be good too! (be sure to brush this out after application).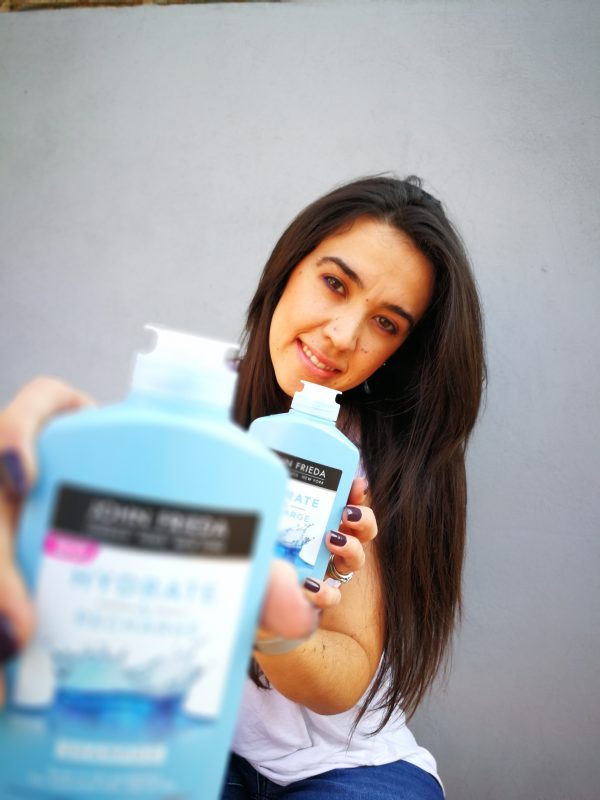 Hope you all adopt some healthy hair habits this winter! 
Want some more reviews on John Frieda Haircare products? Read them here