John Frieda Strengthen and Restore Hair Range-Review
If you have been watching my insta stories (nicole_theguru), you would have seen that I was gifted with a gorgeous hamper filled with John Frieda haircare and other goodies! I was so excited about it that I started my John Frieda Strenghten and Restore hair journey that day!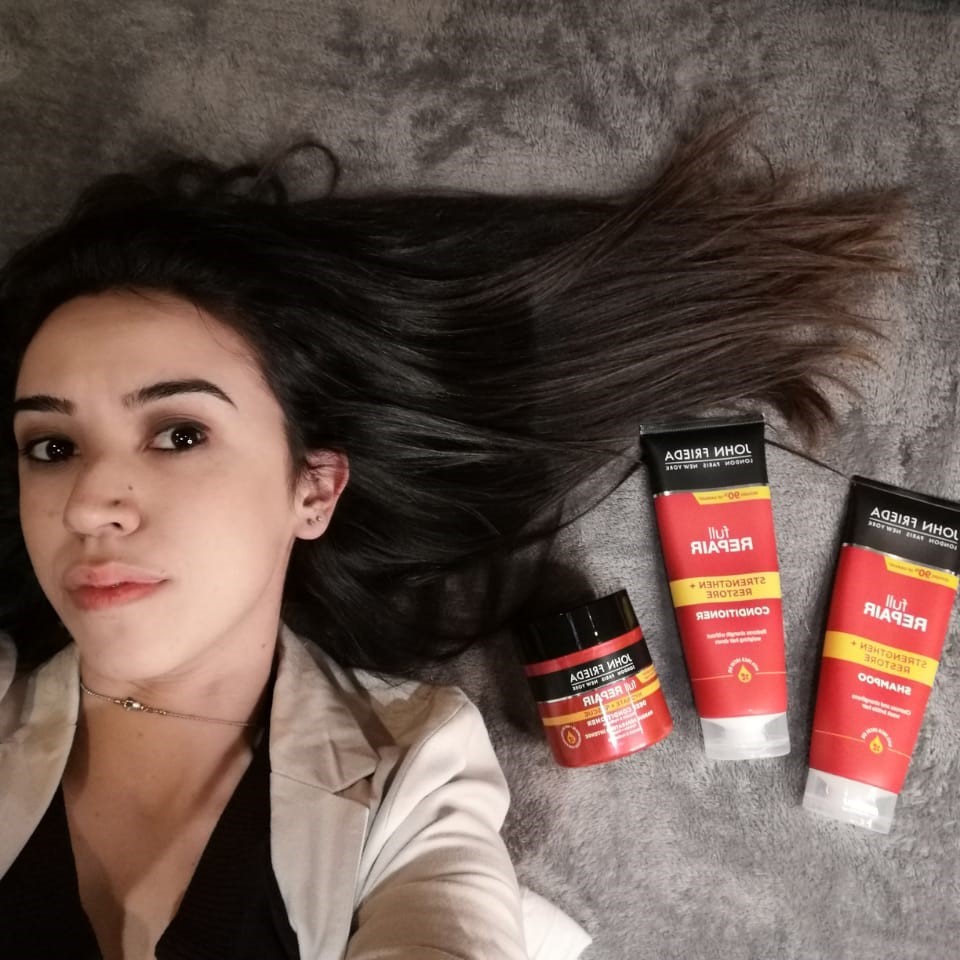 It honestly could not have come at a better time as I have been batteling so much with my hair lately. From tuffs of hair falling out by the hand full and may I add, at a ridiculous rate. To dry, knotty hair that no amount of argan oil seemed to help!
I seeked advise from hair dressers, my GP and even took to instagram, which to my suprise, many other woman were batteling with the same situation as I was.
I started taking Folic Acid for about 2 months which, to be honest, didnt make a difference at all.
So what is a girl to do you ask…? Well after 2 months of stressing about going bald, I came to terms with that maybe it was all part of being an adult. The ageing process, possibly my medication for my PH and daily stress. I began to accept that my thick locks were now going to be thin, dry , not so pretty hair.
My Hair Journey
So ever since I recieved the hair products, I promised myself that I would completely devote extra love and care towards my hair.
Im the worst because often I would be too tired (lazy) to dry my hair before bed so I would simply wrap it up in a towel and go to sleep waking up to a head of tangled frizzy hair.. Not a good look at all!
Full Repair- Strengthen and Restore Range
I started off with the Full Repair Range. It consisted of a shampoo, conditioner and deep conditioner. It was the perfect range to start with to enrich my hair with all the godness that it was lacking.
Infused with Inca Inchi Oil, an Amazonian lightweight micro-oil rich in Omega-3, helps to restore brittle hair fibres as it cleanses. Reduces the risk of further breakage and split ends without weighing hair down. Formulated for all dry and damaged hair types, including colour-treated and chemically treated hair.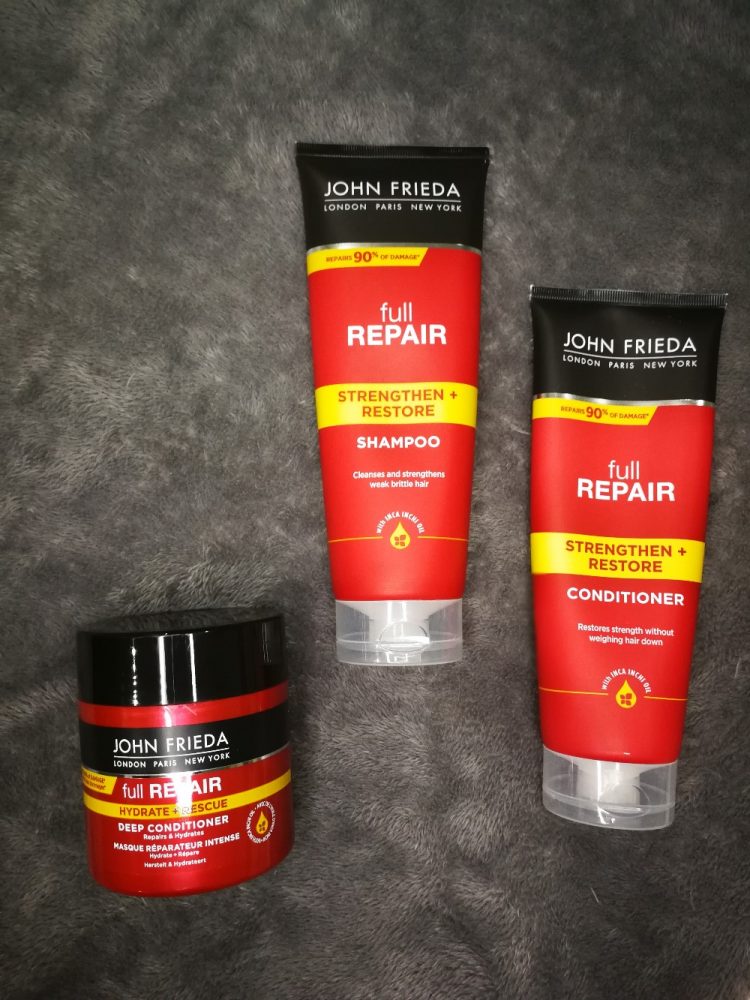 First Impression/Results:
From the first wash my hair absorbed nearly all of the conditioner. It just showed how dry my hair was. I have honestly loved this range. It was exactly what my hair needed and it has transformed my hair completely from the get go!
The deep conditioning is a stunning product for extra nourishment. I have used it twice and my hair felt amazing after using it! The shampoo and the conditioner are amazing on thier own but it you really do have brittle, dry hair than definately add the deep conditioner to your hair regime.
The Strengthen and Restore Range is the perfect starter to get your hair healthy again.
Shop John Frieda Here:
The Full Repair Shampoo and Conditioner can be found at Clicks Stores retailing for R115.99 each for 250 ml size.
The Full Repair Deep Conditioner can also be found at Clicks Stores retailing for R115.99 for 150ml size.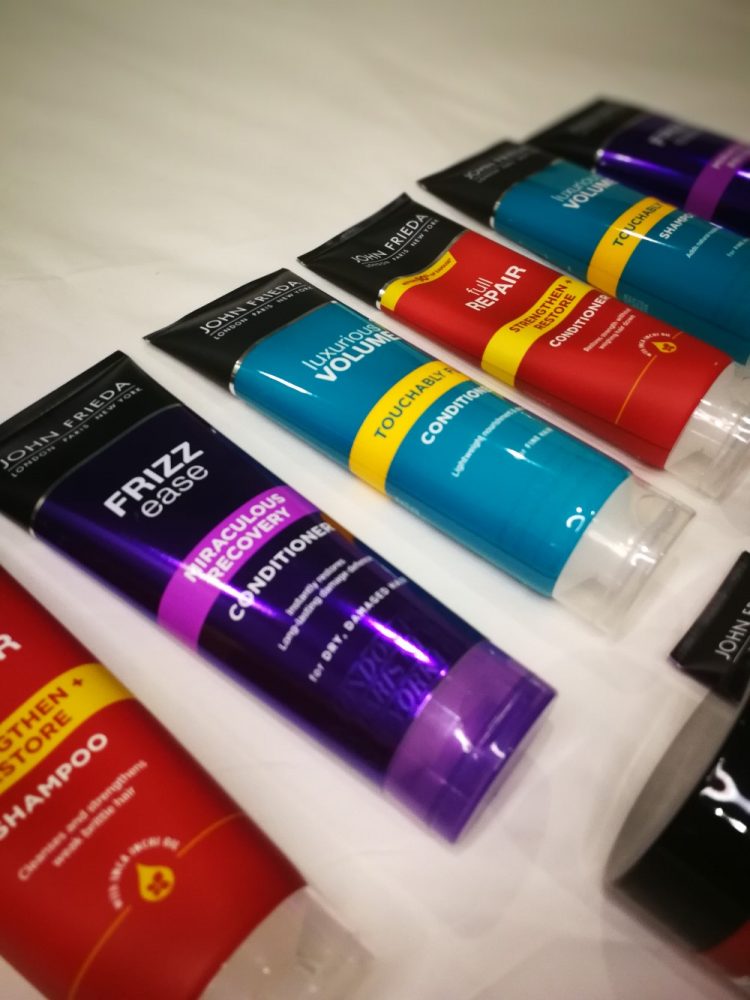 Follow me on my hair journey with John Freida as I will be reviewing and tamming my Frizz with the Frizz Ease Product next!
*Disclaimer: Products were gifted*