May Must-Have/Birthday Wishlist
The month of May is upon us which means birthday month for me, wooohooo! So with that in mind and with winter creeping in on the southern hemisphere I thought I would compile a May must have (uhm birthday list) to start the month off with a bang!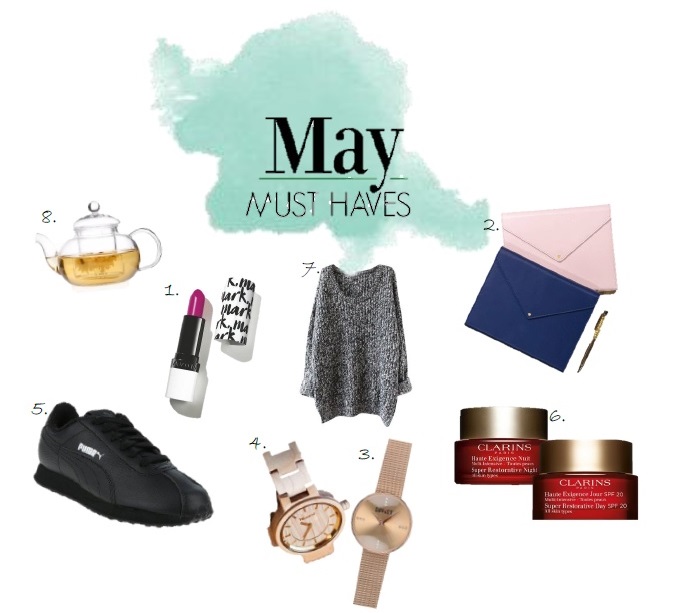 Avon has introduced a new lipstick range called Mark- the colours are absolutely gorgeous and definite must have for those dull winter days to pout and glow! (Mark Plum Lipstick)
If there is one thing that I love is a good old journal to write down my thoughts and the occasional doodles. Typo has the most amazing Magnetic Journals available- A cute idea for mother day too!
I have been eyeing out this Soviet Rose Gold Watch for heaven knows how long, and every time I head over to Zando for a peek it just makes me smile, cause one day I will have it on my wrist- one day…
So as you can see I clearly  have a thing (problem) for watches. I can't help myself, I just love them! Especially this one from Woood.co.za. I have been quite obsessed with anything wooden and a wood watch is exactly what I need to add to my watch collection!
Do you remember the Nike Cortez sneaker? The one where every standard 5 pupil wore the exact same pair of shoe on civvies day regardless of weather it matched their outfit or not. (Picture this – Yellow Jersey, Black ankle pants, white socks and white and blue Nike Cortez!! #facepalm I had Cortez's so I was cool okay?!) Regardless of my horrible fashion sense back then, I have longed for comfortable shoes like those and when I spotted these beauties on Zando from Puma, I just knew I had to add them to my list!
My mom handed my sample tubes of the Clarins Restorative Day and Night Cream which she wasn't phased about using. I myself was a bit hesitant about using it because of my sensitive skin but thank goodness I changed mind, because it is such a stunning product! It's super absorbent and leaves your skin feeling moisturized and so soft- A definite winner in my books and a must for the winter.
Oversized Knits are a must for the chilly nights out. Looking cute and chic and the same time- yes please! Cotton On and MRP have gorge knits!
Ever since the Tea Meditation Retreat I went on with my bestie, I have been obsessing over getting a glass tea pot for myself and mastering the art of tea meditation at home. Hubz spotted a nifty little shop in Stonridge Mall that has them- looks like I will be brewing some tea this weekend!
Happy shopping lovelies!