Clinique Fresh Pressed System – Review
I am so excited about this post because this product deserves some serious spot light on it because it's just that good! I wrote about my Clinique haul a couple of weeks back, you can read it here if you missed it. I mentioned that I would do a seperate post about the Clinique Fresh Pressed System. Well ladies and gents, may I present, for me at least, the ultimate Vitamin C Serum you need in your beauty regime.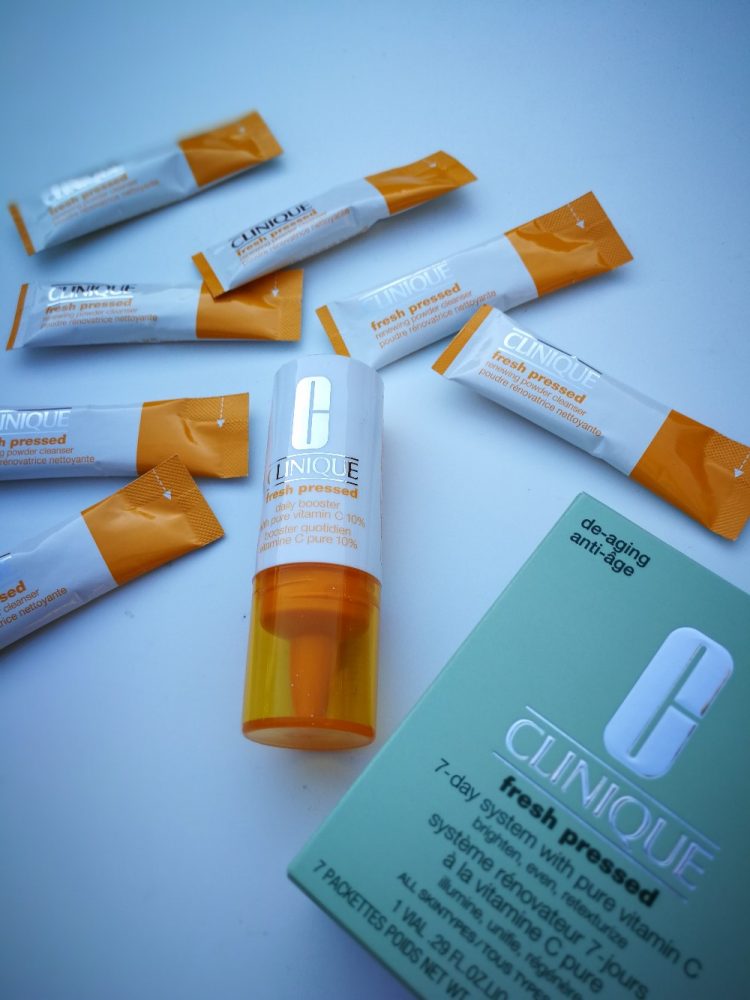 Is Vitamin C Important?
Vitamin C is one of the most important skincare ingredients and serves multiple purposes, including improving the overall tone and texture of the skin, slowing down the ageing process, increasing the skin's defence against UV damage, and reducing hyperpigmentation and blemishes.
How does it benefit your skin?
It firms the skin and makes it look younger. Vitamin C is an important part in the formation and production of collagen. When it is added to a regime, vitamin C increases collagen synthesis, which results in younger, healthier, firmer looking skin.
It helps reduce fine lines and wrinkles, and slows down skin ageing. Numerous clinical studies on Vitamin C have shown it to be a potent anti-oxidant when applied to the skin. Vitamin C has the ability to neutralise environmentally-induced free radicals such as pollution, smoking, oxygen, and UV induced free radicals, and provides a protective shield over the skin to prevent them from entering. ( The whole reason why Im absolutely hooked on Vitamin C!)
It increases the skins defence against UV damage and even boosts your SPF effectiveness. Recent evidence has shown that combining vitamin C with SPF boosts the effectiveness of the SPF, thereby helping to protect your skin from harmful UVA and UVB rays. Additionally, it has also been shown that vitamin C can help repair skin damage following excessive exposure to the sun.
It helps to reduce hyperpigmentation, dark marks and blemishes, and increases your skins glow that you visibly see! Vitamin C will help with reducing the appearance of dark marks, blemishes, age spots, and will even help with dark under-eye circles.
TIP– For the treatment of stubborn pigmentation marks, apply a small amount on the pigmented mark after cleansing in the evening before applying retinol or any other moisturiser.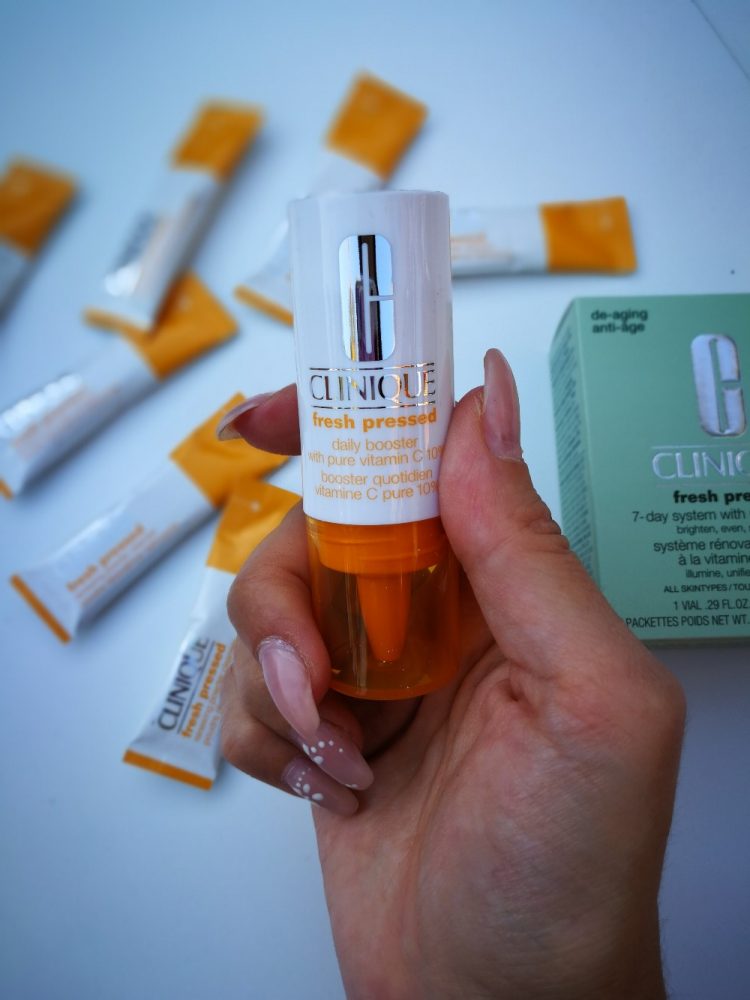 Clinique's Fresh Pressed System, harnesses the full power of Vitamin C at their highest concentration. The Fresh Pressed System contains two components: a Renewing Powder Cleanser with Pure Vitamin C, and the Daily Booster with Pure Vitamin C 10%.
Renewing Powder Cleanser with Pure Vitamin C:
Vitamin C (Ascorbic Acid) to restore radiance, brightness and luminosity;
Kaolin Clay to purify and gently polish the skin; and Salicylic Acid to break apart dead skin cells and excess oil.
Daily Booster with Pure Vitamin C 10% :
Vitamin C and Salicylic Acid as above;
Molasses to break up existing dark spots into microscopic particles that are diffused throughout the skin; Mulberry Root Extract, Scutellaria Extract and Grape Fruit Extract to help fend off oxidative damage and prevent future discolouration; Sucrose, Betaine, Algae Extract and Caffeine to calm and soothe the skin.
Due to the fact that Vitamin C naturally degrades when exposed to oxygen, the Powder Cleanser and Daily Booster are both housed in air tight, light-protected packaging to ensure that the Vitamin C remains stabilized and at it's most potent
The Review:
The Powder Cleanser is packaged in individual sachets to ensure zero exposure to light or air prior to cleansing. You empty the sachet into your wet palm, add a bit more water to lather, and apply to your entire face. Clinique advises that you leave the Powder Cleanser on the skin for approximately one minute to ensure that your skin "captures the potency of pure Vitamin C".
I absolutely loved the application ritual of the Powder Cleanser first thing in the morning, with that, I visibly saw a difference in my complexion and the added glow it had to my skin. None drying and so gently on your skin!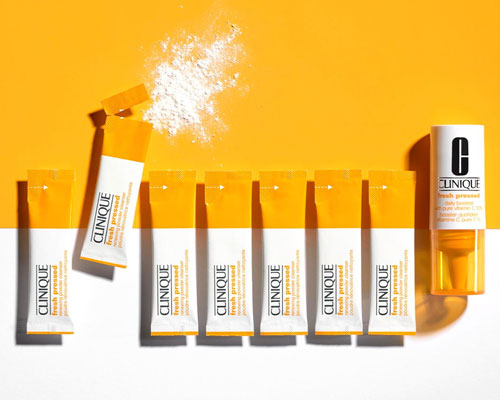 The Booster is just magic in a Tube I tell you! The formula feels beautiful on the skin and my skin looks and feels so damn good and I certainly see a big inprovement in my skin.
To ensure maximum potency, the 10% Vitamin C powder is isolated in a sealed chamber within a lightproof vial and is only released into the soothing emulsion for mixing when it is ready to use. The idea behind this is that you only activate the Vitamin C immediately prior to the first application, meaning that its potency is guaranteed for the following 7 days.
Although it is a 7 day system, I have continued to use my Booster mixed with my daily moisturiser. The colour does change due to exposure of oxygen but it's perfectly fine to use.
TIP: If you're concerned about sensitivity issues, you needn't be. I have sensitive skin and was concerned about the potency of this product, but I haven't had any adverse reactions to it at all . If you've never used Vitamin C before, you can wean your skin onto it and see how you go.
Would I reccommend it?
ABSOLUTELY! I really enjoyed this product and the fact that I can visibly see a difference in my skin makes it even better! Goodbye pigmentation, goodbye fine-lines and hello to a whole lot of glow!
You can purchase the product online or at selected Edgars stores!