Clinique Beauty Haul- Skincare Review
A few weeks back, I took advantage of the Clinique free gift with any purchase online and man, did I get alot of goodies! I was in need of some moisturisers and serums anyways and got a bit carried away with some skin care, but none the less, I dont regret my Clinique Haul!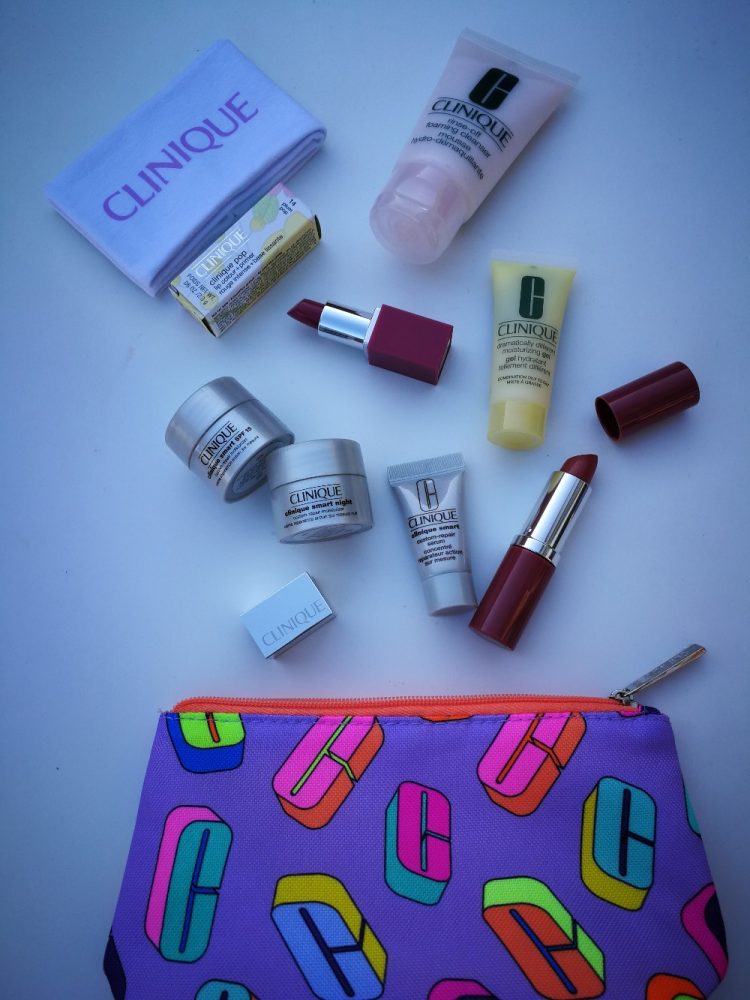 Double Cleansing Detox
So when I online shop I always like to check out the sale items to see if there is anything that tickles my fancy, lucky for me, there was. I bagged the Double Cleansing Detox that comes with:
Take The Day Off™ Cleansing Balm, 15ml
Rinse-Off Foaming Cleanser 50ml
Clinique Headband (So cute!)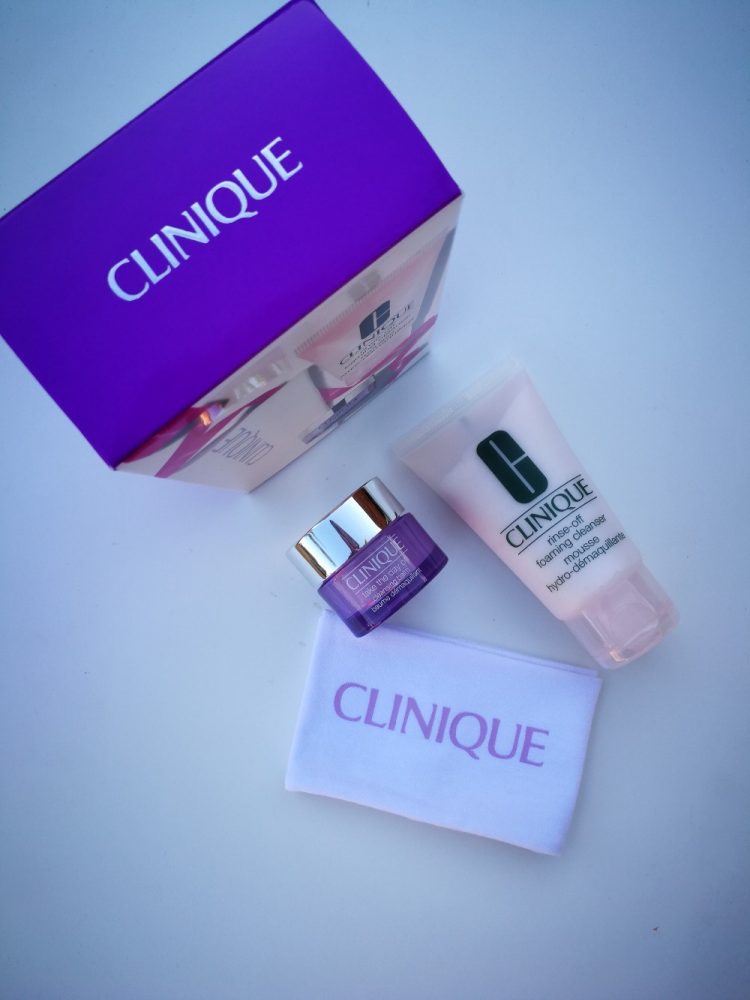 My Thoughts: I am utterly OBSESSED with the Take the Day Off Balm and honestly swear by this make-up remover. You can read more about it here. Cleansing balms are so much better for me personally. I used to use facial wipes only to remove makeup until my skin, especially around my eye area, became so sensitive that it would peel! Happy to report that I only use cleansing balms or oils and keep my skin attached to my face and in turn, quite happy.
The Rinse-Off Foaming Mousse is just as glorious as the Balm.
Using it only at night, the Cream-mousse face cleanser with soothing botanicals leaves my skin feeling moist, clean, fresh, perfect to add to anyones night time routine.


Fresh Pressed 7-Day System with Pure Vitamin C
The whole reason why I made a Clinique beauty haul in the first place was because I caught a video of Tori from Kiss, Blush and Tell talking about Vitamin C Serums etc. on her Insta stories and on the blog and I just had to try it for myself. PS: She is the ultimate skin health Queen of note! You will agree when you see her! Her skin is flawless, she is super knowledgable on all things beauty and to top it off she is a "take no-shit" kinda gal. She is fab!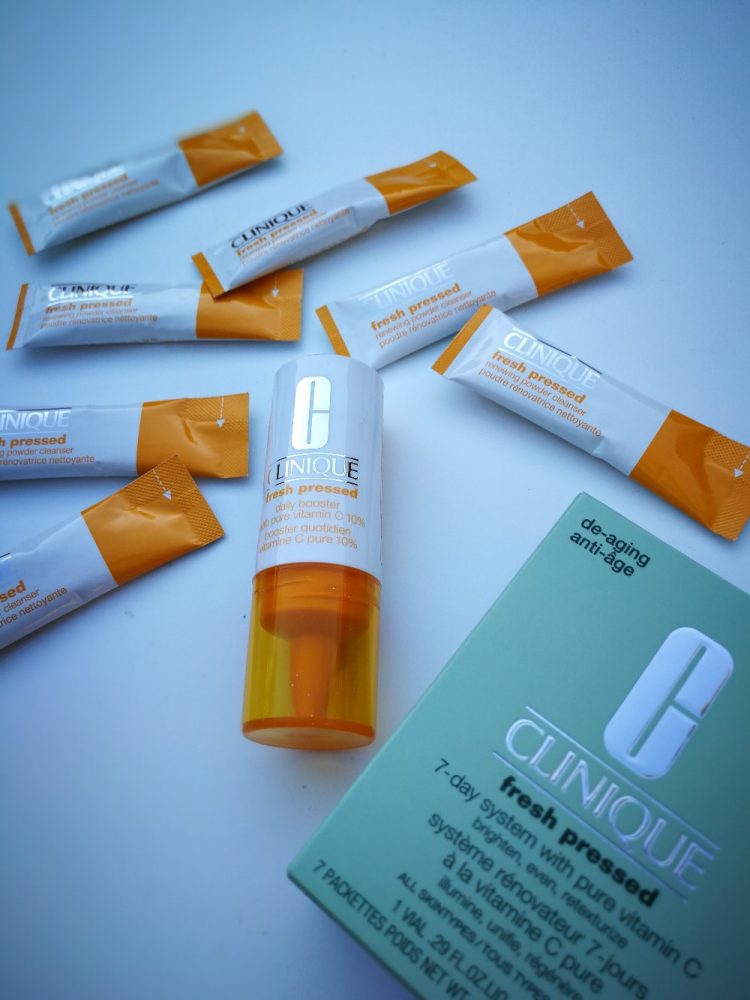 For the unversed, Vitamin C is one of the most important skincare ingredients and serves multiple purposes, including improving the overall tone and texture of the skin, slowing down the ageing process, increasing the skin's defence against UV damage, and reducing hyperpigmentation and blemishes. Who knew that I was missing out on such an important step in my skin care regime.
The Fresh Pressed System contains two components: a Renewing Powder Cleanser with Pure Vitamin C, and the Daily Booster with 10% Pure Vitamin C 10%. I undertook to complete the Fresh Pressed 7 Day Challenge, whereby you use one sachet of Powder Cleanser a day, and add two drops of the Booster into your moisturiser twice a day, for one week. Clinique claims that you can expect to experience the following results: "from the first application, experience brighter, more radiant skin. With continued use, see transformative de-aging results: skin that's noticeably firmer, more even-toned, smoother, with visibly diminished lines and wrinkles and a radiant, youthful glow."
My Thoughts: I really want give you guys the scoop on this system because I really enjoyed and still am enjoying it and I think it deserves its own post. So keep your eyes peeled for the full review on the Vitamin C system!
Free Goodies & Samples !
Usually when you get free gifts it's generally one or two items, but Clinique gave us a bag full of goodies!
Take the day off Make-up remover for Lids, Lashes & Lips 30ml
Clinique Smart Custom Repair Serum 7ml
Clinique Smart SPF15 Custom Repair Moisturizer 7ml
Clinique Smart Night Custom Repair Moisturizer 7ml
Clinique Pop Lip Colour + Primer – bare pop 3.8g
Dramatically Different Moisturizing Gel
Clinique Lipstick
Cosmetics Bag (Perfect little bag for my lippies)
My Thoughts: The Take the Day Off Oil reminds me of baby oil.. Maybe not as heavy but the texture is there. It definately does the job just as good as the balm but I do prefer the balm to the oil anyday.
The Clinique Smart Samples – Lets start with my favourites. The Clinique Smart Night and the Clinique Custom Repair Serum were huge hits for me. I used the Night Moisturizer after I had clensend my face before bedtime. I love that it absorbs quickly and that it didnt leave my face super oily the next day. The Serum, I used it on a daily mixed with my moisturizer and I have to say that I have seen some difference in my fine lines around my eyes. The lines are almost nearly gone and my skin hydrated and glowing! The Clinique Smart SPF15 unfortunatly was a miss for me. It left my skin very oily which made me breakout with pimples on my forhead, specifically, in the T-zone area.
It can get a bit pricey…
Be warned that the Smart Range is quite pricy but if it shows the results like it has, then it's definately worth it!
The Clinique Moisturizing Gel is a lovely, very light formula that you can wear on a daily basis. Personally, I think this will work for a combination to oily skin type as it is super light and quite moisturising. It's nice.
Last but not least, I got 2 Lippies that, for me, are very similiar in colour but so pretty and supper soft on the lips. I got a good 3 hour wear before I had to touch up. Not bad at all.
Would I repurchase?
Absolutely!!!
This is my first time ever using products from Clinique and I am super impressed. The products are more high end but it's a brand that promises results and delivers!
"Your skin regime is a bank account. Good product choices are good investments." Always invest in your skin!
xx