Eucerin- The Solution to Dry Skin
Do you suffer from EXTREMELY dry skin? Goodness I know I do.
As a beauty blogger, I have had my hands on a pretty substantial amount of beauty products. Being a dry skin sufferer, I have spent a lot of money trying to tame the itchy, dry scales on my legs for years, until now. Newly introduced to Eucerin, safe to say I have found a solution to dry skin!
When it comes to hand creams, there are a few that have impressed me, but the one I have been loving the most Eucerin Urea Repair Plus 5% Urea Hand Cream
Eucerin UreaRepair Plus 5% Urea Hand Cream (R142.99 for 75ml)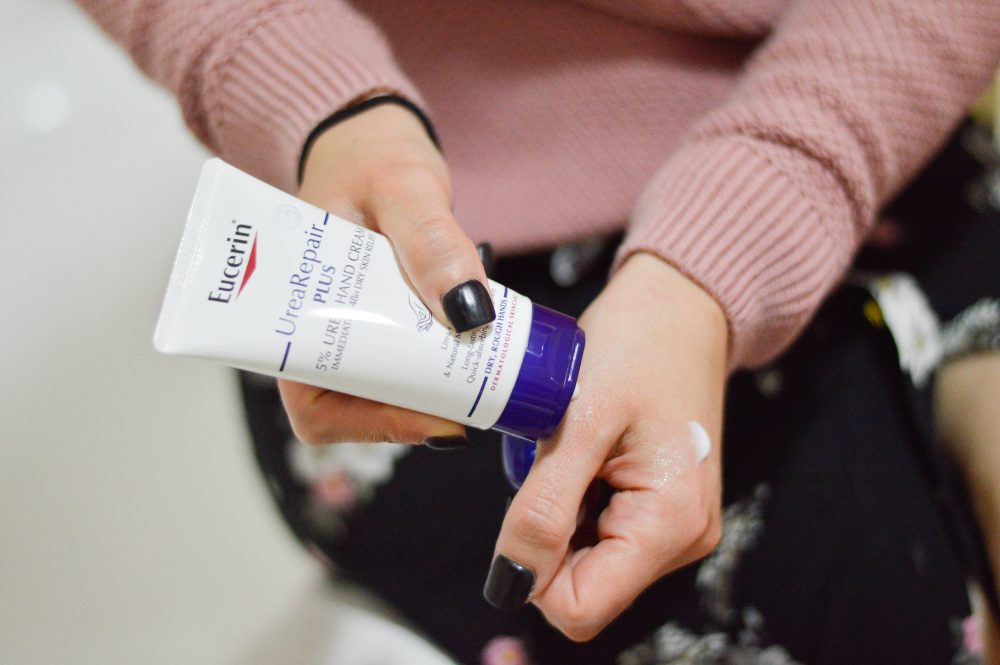 This ultra-nourishing without being greasy or oily hand cream really sets apart from the rest. Fast absorbing and light-weight. The formula itself is just wonderful & contains the following ingredients:
UREA: Binds moisture to the skin, has a gentle exfoliating action and contains anti-itch & anti-microbial properties. Urea soothes & smooths the skin's surface.
CERAMIDES: Prevent moisture loss & strengthens the skin's barrier.
NMF: Natural Moisturising factors are found in healthy skin. They include amino acids, inorganic salts, lactate & urea. These are replicated in the Urea Repair Plus range for optimal hydration.
Eucerin AtoControl Bath and Shower Oil (189.99)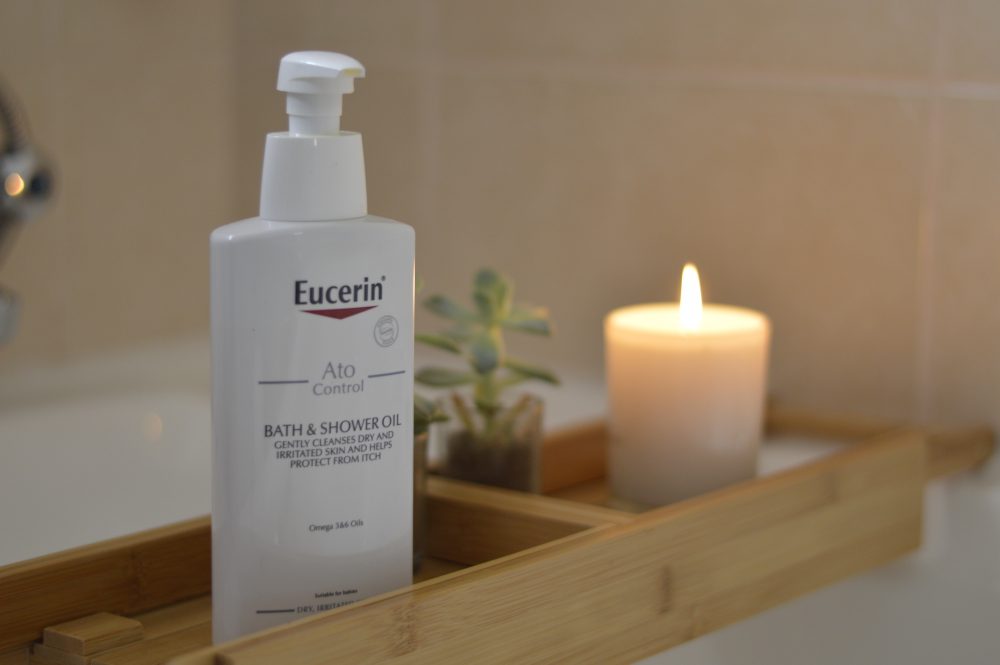 Another favourite is the Eucerin AtoControl Bath and Shower Oil. It gently cleanses and soothes atopic skin, relieves itching and prevents further dryness- It's Incredible!
Containing over 50% Omega oils and other natural oils, its high oil content softens and protects skin from further dryness. This has been an absolute game-changer for my skin. Guys, after 3rd day of use, I didn't even have to moisturise my body after a shower, it's that good!
Eucerin UreaRepair PLUS Lotion 5% Urea, (R185.99)
When the skin on my body is really dry, I find this moisturiser really hydrates and conditions it. It's quite soothing to the skin as well.
The fragrance-free, super gentle yet hydrating formula used in the Eucerin Urea Repair Plus 5% urea Lotion contains Urea, amino acids, lactic acid and ceramides – all proven to alleviate and soothe symptoms of dry skin for up to 48 hours. It also repairs the skin's natural ability to fight dry skin by binding, locking and distributing moisture effectively in the skin.
DermatoClean Mild Cleansing Milk (R164.99)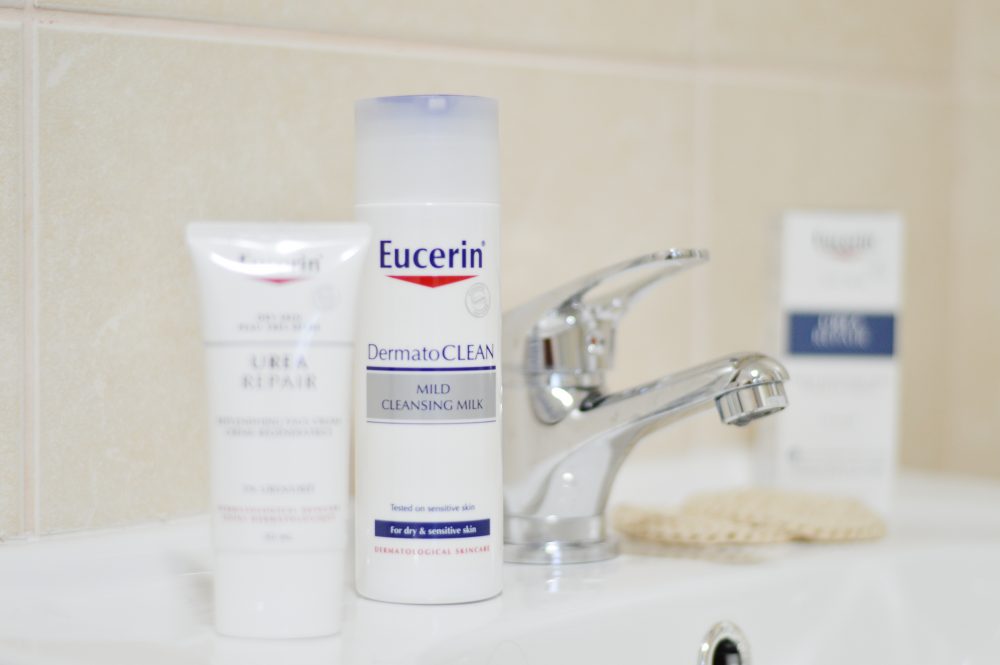 This has to be by far the gentlest cleansing milk I have ever tried! This mild but effective cleanser removes impurities and make-up and helps the skin to maintain its natural moisture balance. I have included this Cleansing Milk in my night routine when my skin is feeling a little dry and in need of extra hydration. Packed with ingredients like APG Complex: mild cleansing complex. Gluco-glycerol: a nature-derived moisturizing active and Hyaluronic acid: high moisture-binding capacity.  It leaves skin clean and supple, which I absolutely love!
Eucerin Intensive Lip Balm (R79.99)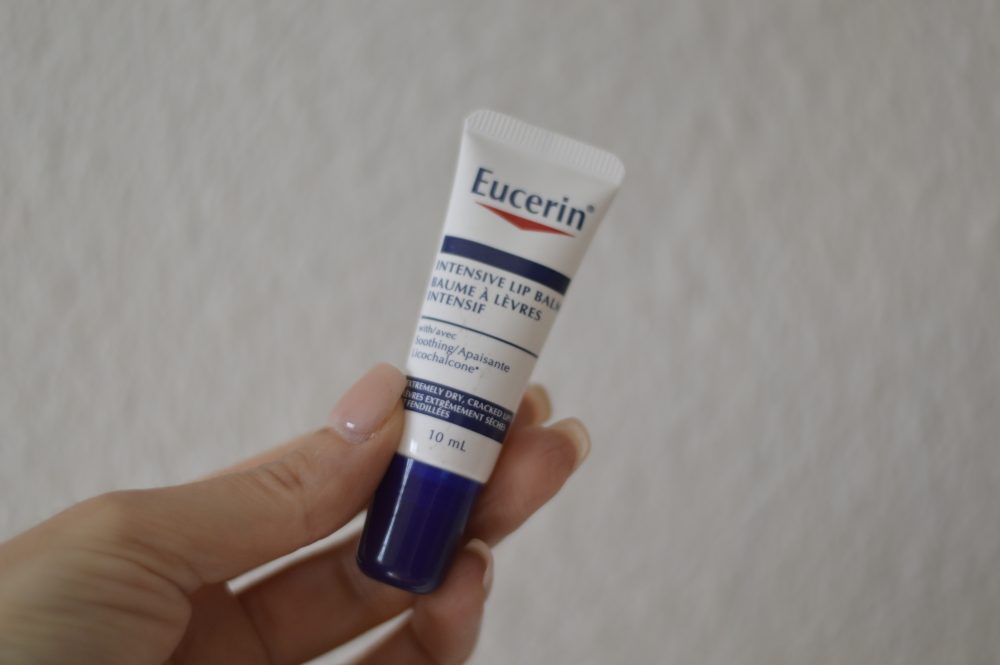 The struggle with finding a lip balm has been the absolute pits. Honestly, I think most of them don't actually work. Re-applying a lip balm to dry lips every 20 minutes is not normal- seriously…
Guys, stop wasting your hard-earned money on lip balms that are actually irritating your lips and spend it on a good lip balm that heals them. You need something that smooths and nourishes, not tingles and smells good.
This almost fluid-like consistency, penetrates into the lips, addressing dryness & irritation. You don't need to constantly re-apply it, because it starts working after the first application. I have never found a lip balm as good as this one, and that is the honest truth!
This brand has really shown some impressive results and can honestly say that it will hold a space on my beauty shelf for years to come. Eucerin- The solution to dry skin.